History is a passion, certainly. It was my major in college, and I continue to read both fiction and non-fiction of many eras and places. But I'm into a lot of other things as well.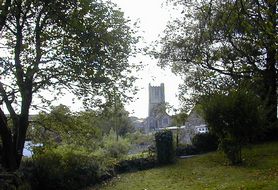 I love to travel. The best trips are those where I can explore back roads, small villages, historical sites, beautiful scenery, and impressive architecture.  The header photo was taken at the Corbière Lighthouse on the Island of Jersey. The one to the right is a tiny village on the edge of Dartmoor. The one below is the clerestory and vaulted ceiling at Malmesbury Abbey, where the natural light through the windows combined with the artificial light inside to create a stunning effect.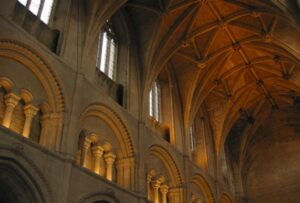 Over the years, I've done a fair bit of photography. Thank goodness for digital so one no longer has to carry around massive amounts of film of all different speeds — and then pay a fortune to get it processed.
I'm a classically trained musician, having studied piano from the age of five, and briefly majored in piano performance during my first year of college. I've no doubt this training gives me a feel for the rhythm, dynamics, and phrasing of the written word. Currently, I'm learning to play the organ. I'm in awe of professional organists and the music they coax from beautiful pipe organs. Surprisingly, there are analogies with keeping multiple threads of harmony and/or dissonance in the right balance when crafting a narrative.
I speak French and Spanish and read Italian. I studied Russian for a couple of semesters in college, but not much of it stuck over the years.
I am a certificated private pilot (single engine airplane) with an instrument rating. And yes, I've actually flown in with my brothers for the legendary "$100 hamburger," though in our case, it was barbecue.
The majority of my career was spent in the software industry, where I did everything from coding to customer support and documentation to product management and product strategy. Writing fiction is a whole different animal from writing a software user manual, but the basics of good writing can transfer from one world to the other.

Speaking of animals, I've always had furry friends and currently share my home with two Pembroke Welsh Corgis. They're great company and remind me frequently that a dog walk is the best way to find inspiration for that next chapter. They were also the inspiration for my little business selling organic pet treats (Village Pump Specialties).
Community
DIY MFA  A community of aspiring and experienced authors where I have the honor to write the Historical Fiction column, "Past Perfect."   Read the articles
DFW Writers Workshop  Over 200 published and aspiring writers from across the Dallas-Ft. Worth Metroplex. Read-and-critique sessions every Wednesday night. Sponsors of DFWCon, one of America's best writing conferences, 8-9 October 2022.
Ink & Insights  Four years on the Judges Panel for this writing contest provided a great opportunity to see the work-in-progress of some talented authors.