I love to meet fans and introduce new readers to my books.  Whether it's a public signing event or a book club meeting or talking to writers and readers at book fairs or conferences, I always enjoy the conversations with people I meet.
As vaccination rates climb and Covid restrictions ease, I'm resuming in-person events later this year.
Sign up below if you'd like to receive email notices of coming events.
2021 Events
Oktoberfest
Muenster, TX

Booth SSW-1 — right of the stage near the security office

2-3 October
What Are You Reading? What Are You Writing?
Interview with Karen E. Osborne

Listen here

18 June
Heard it Through the Rosevine Podcast 

Listen here




(or wherever you get your podcasts)

21 May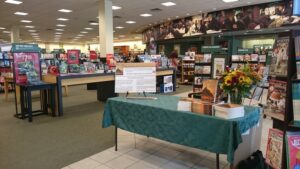 * Indicates event is private or by invitation only
Event hosts click here for press kit.
Previous Events in 2019 & 2020
| | |
| --- | --- |
| 28 July 2020 | The Books Delight Interview |
| 22 June-25 July 2020 | "Pestilence" Blog Tour |
| 17 June 2020 | DIY MFA Radio Appearance |
| 4 June 2020 | Author Groupie Facebook Interview |
| 15 February 2020 | Amelia Island Book Festival |
| 25 January 2020 | Book Signing, Barnes & Noble at the Arboretum, Austin, TX |
| 9 November 2019 | Book Signing, Barnes & Noble, Southlake, TX |
| 26 October 2019 | Texas Book Festival (Austin) |
| 19 October 2019 | Book Signing, Barnes & Noble, Highland Village, TX |
| 12 October 2019 | Ft. Worth BookFest |
Event Notification Sign-up
If  you have any questions about how the information you provide will be handled, please review our Privacy Policy here.